The Zarlen Basic Healing Therapy Certificate Correspondence course
Normal price $995usd.
plus postage and packing!
The first book ever written on the Ka-lei therapy is now available in paperback from Amazon.com or our own store!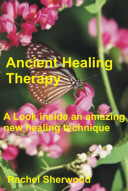 Ancient Therapy now available in ebook format order a copy now from our shop.
Those people who have already completed the basics and advanced courses in workshops can obtain these correspondence courses for reference purposes for $450usd each..
Comments from people who have done this correspondence course.
Am working hard on the course and enjoying it very much. DR Jonathan Sherwood's "Kalei Healing Therapy Correspondence Course", The course teaches you how to access higher brain functions and frequencies that are in all of us, so that you are able to access and apply your own healing energy for a myriad of ailments and problems for yourself and for others. You will also learn how to access different levels within yourself which in other circumstances would remain dormant. The techniques are readily understandable, and by working methodically through (and oscillating between) the forty Audio and Video clips, and the worksheets, you can assimilate the methods whilst simultaneously trying them in real applications. There are numerous techniques for different applications, from memory improvement to energy enhancement, to point repair, which is used in healing many ailments, from the most common (depression, headaches, poor eyesight, and hearing) to the most difficult and seemingly impossible (cell degeneration and brain damage). Incredibly, such healing often takes place after only one application. Obviously when one knows how to apply the techniques correctly. As a corollary, your own energies will increase considerably if you practice assiduously and apply the techniques as DrJohn outlines in the course, and as a bonus this will be reflected in other areas of your life. It really is quite extraordinary how the energy flows between your hands. It is objective, thus it must flow for everyone. Further, by intensifying your concentration,and by working with the various energy levels, the flow becomes really quite intense, sometimes making it quite difficult to move one's hands. It is a rather like holding a rubber ball between your hands as you concentrate. You can rotate it, and play with it, and even when you reactivate (perhaps several hours later), the energy just picks up again, almost as if you had never left off. It is like coming into contact with a part of you that you did not realize existed. I recommend this course to anyone interested in developing advanced alternative energy techniques whether for applications to others or/and to oneself. All in all, an excellent course, but be warned. If you take the basic, you will not be satisfied until you have taken the advanced. This is the crowning of one's abilities, and elevates one's knowledge and abilities to an even higher level which allows an already effective technique to become an even more effective technique.
Arthur..Italy.
This course is supplied via MAIL and is a complete Audio CD collection & also includes over 40 video clips with DR Jonathan & Rachel Sherwood taking you through relevant exercises relative to the Kalei healing techniques,there are also relevant worksheets included as well as a How to get started instruction sheet! There is also an exam to obtain your certificate. This is a completely new and revamped course. The video section is now on CD ROM this way all countries can now apply!
Subjects covered.
Background & Introduction, Principles of Healing, Patient Analysis
Healing Room Layout, Self Healing, Healing Energies
Accessing the Energy, Tuning in Technique, Working with Energy Points
Energizing Techniques, Absent Healing, managing Stress & Physical Ailments
Levels of Consciousness, Body Energy centers, Therapists/Patient Interaction
Development Exercises. Plus memory improvement exercises and lots more!
Now including the all new Kalei Labor pain free delivery technique!
At any time you can e-mail us if you have questions.
Normal price for this course is $995usd.
Special price $450usd. Buy now!
If you wish to become a Rajon Club member before doing this course then go to the rajon membership page from the main index. A pack will be mailed to you upon receipt of payment. Then you will be required to pass an exam at the conclusion of the course to obtain your certification. (This certificate will be snail mailed to you.) This will allow you to start your own business as a Kalei Basic Healing Therapist Valid Worldwide!